OUR STORY
Chick-fil-A Vancouver is a multi-unit organization (Chick-fil-A Cascade Park and Chick-fil-A Vancouver Mall Drive) owned and operated by John Dombroski. John desires to provide a place of restoration and renewal for our guests and strives to nourish the whole person on both sides of the counter. His goal is to remind each person that they are valued, both in the restaurant and out. He facilitates a culture with a shared vision to be SW Washington's most caring company through our quality food, caring service, and community engagement.

John and his wife, Aubrey, have six children and moved to Vancouver, WA in early 2016 in preparation to open the Cascade Park location. The Cascade Park location opened in September of 2016, and the Vancouver Mall Drive location opened in January of 2021.


our Shared Purpose
To Care for Our Community
To Nourish the Whole Person on Both Sides of the Counter

Our Shared Promise
You Are Valued



Our Shared Values
be HUMBLE
stay HUNGRY
always HUSTLE
live HONESTLY
have HEART

Our Shared Vision
To be SW Washington's
Most Caring Company

Our Shared Mission
We Win Hearts
Every Day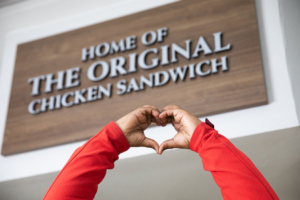 Chick-fil-a
cascade park
16400 SE Mill Plain Blvd.
Vancouver, WA 98684
360.980.8535
Monday – Thursday 6:30 AM – 9:00 PM
Friday – Saturday 6:30 AM – 10:00 PM
Closed Sundays
Chick-fil-A
VANCOUVER MALL DRIVE
8440 NE Vancouver Mall Drive, #100
Vancouver, WA 98662
360.360.3036
Monday – Thursday 6:30 AM – 9:00 PM
Friday – Saturday 6:30 AM – 10:00 PM
Closed Sundays